What kinds of community outreach does Teen Therapy Center do?
Teen Therapy Center continuously strives to bridge the gap between parents and their teens as well as younger children. Joining us in our office to work privately is one of the most effective ways we can help any individual family. However, attending seminars and workshops geared towards a group of parents is also beneficial. All too often, we hear how "alone" parents feel during this long parenting journey. We want to help you find a community full of support during both the joyous stages and the difficult times. It is important to us at Teen Therapy Center that we provide parents with access to various forums where they can learn without being judged, talk without being criticized, and listened to without being interrupted. Sometimes all you need are a few suggestions to get you over that hump. Giving back to the community is important to us because we fully believe that our community as a whole is responsible for shaping and mentoring the children who will become our future. We all need to learn together so that we can help one another.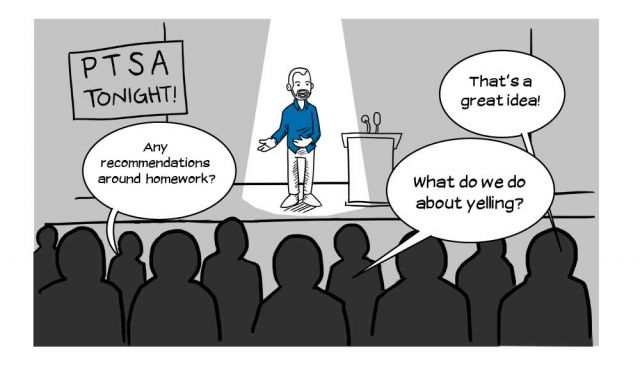 Teen Therapy Center provides seminars (often at no charge) to local organizations such as PTSA, church and professional groups that have parents looking to better understand and raise their children. You can come to any of these free workshops to learn how it is fully possible to have a peaceful household with teenagers!
Really? I can attend one of your FREE workshops?
The following is a schedule of upcoming workshops for local parent organizations that have invited me to speak during the 2019 – 2020 school year. Most are open for anyone to attend, however some situations may require that you contact the host for permission.
January 20, 2022 @ 9:00am
Alfred B. Nobel Charter Middle School
"Who Is This Crazy Person Masquerading as my Tweenager?"
February 4, 2022 @ 9:15am
Robert Frost Middle School
"Who is this Crazy Person Masquerading as my Teenager?"
February 9, 2022 @ 12:00pm
Bridges Academy
"5-4-3-2E… Launch! Transitioning through High School to Adulthood"
March 9, 2022 @ 7:00pm
St. Francis School, Sherman Oaks
"Who is this Crazy Person Masquerading as my Tweenager?"
October 27, 2022 @ 6:00pm
Chaminade College Preparatory
"Who is this Crazy Person Masquerading as my Tweenager?"
November 4, 2022 @ 8:30am
Robert Frost Middle School
"Who is this Crazy Person Masquerading as my Tweenager?"
What kind of topics do you discuss?
Here is a list of workshops that Kent has created that are available for your group to assist parents and professionals alike to better understand kids and teenagers:
Who is This Crazy Person Masquerading as My Teenager?
Screens and Teens: Video Games, Social Media, and Other Electronic Obsessions
Parenting without Panic!
Homework…YUCK! Help for Parents, Success for Students
Sex, Drugs, & Violence: The Three Teenagers of the Apocalypse
Graduation…Journey to the Unknown
Co-Parenting with Your Ex-Spouse
QuaranTEEN: Unmasking the Challenges of Distance Learning
5-4-3-2E… Launch! Transitioning through High School to Adulthood.
Will Teen Therapy Center come and speak to my organization for free?
Yes, we would be happy to speak with your organization. Feel free to CONTACT us at Teen Therapy Center to discuss which topics best suit your organization's needs.
This sounds like exactly what I need! But I can't make those dates. How else can I participate in a parent-only workshop?
Kent Toussaint also regularly offers his unique and highly popular groups called The Parent Workshop in his office. While these are not free, the cost is minimal, but the environment is very intimate and you surely will find the support and the help you are looking for. There is limited seating for these workshops so you must RSVP in advance.
What parent organizations has Kent Toussaint spoken to in the past?
Agoura Hills High School
Alfred Nobel Charter Middle School Parent Center
The Academy for Enriched Sciences
Because I Love You (BILY) – The Parent Support Group
Bishop Alemany High School Parent Association
Bridges Academy
The Buckley School Parent Education
Calabash Charter Elementary School PTA
Chaminade College Preparatory
Chatsworth Hills Academy
de Toledo High School
Dearborn Elementary School
Emelita Street School Parent Center
George K. Porter Gifted Magnet Middle School
Granada Hills Charter High School PTSA
Hale Charter Academy
High Tech Los Angeles High School
Holistic Moms Network – San Fernando Valley Chapter
Holmes International Middle School
Ingenium Charter Middle School
Insight to Teen Culture
Lanai Road Elementary School Parent Center
LAUSD Parent Center Directors – District One
LAUSD District One Parent Training Conference
Milken Community Schools
Millikan Middle School Affiliated Charter Performing Arts Magnet & Science Academy
Nestle Avenue Elementary School Parent Center
Notre Dame High School
Portola Middle School PTSA
Reseda High School Parent Center
Robert Frost Middle School Parent Center
Sherman Oaks Center for Enriched Studies Gifted Student Program
Sherman Oaks Center for Enriched Studies Parent Center
Sherman Oaks Center for Enriched Studies PTSA
Sherman Oaks Center for Enriched Studies 6th Grade Moms of 2008-2009
Sierra Canyon School Parent Association
Stanley Mosk Elementary School
Taft High School Parent Center
The Jordanstrong Foundation
Valley Academy of Arts and Sciences
Valley Outreach Synagogue
Van Gogh Charter Elementary School
The Wesley School Parent Association
Woodland Hills Academy Parent Center
Woodland Hills Private School
Unitarian Universalist Association of Congregations
If you'd like to have more information on upcoming presentations or would like our Clinical Director, Kent Toussaint, to speak to your organization, you are welcome to contact him at 818.983.7728.